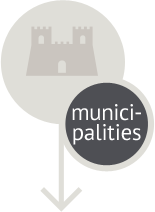 Post a new point of interest
If you want to post your itinerary to us click here
Earth houses, constructions also known as "atterrati", are typical old houses of the Marche region and are widespread in the mid-hill area of the province of Macerata.
This house is built entirely in earth and straw; the walls have a variable section, slightly wider at the base for greater stability which gives the entire building the characteristic trapezium shape. The layout is rectangular, with regular and aligned openings, placed only on the long sides. The main façade has a brick base which was added later; some bricks are inserted in the wall up to the first floor so as to facilitate the application of the plaster. The house was originally plastered; the stairs were inside and the kitchen was located on the ground floor, together with a room, presumably used for storage with independent access from the outside; the upper floor was reserved for the bedrooms.
Inside the earth house it is possible to relive the conditions of agricultural life in the Macerata countryside in the 1800 and the beginning of 1900. Other earth houses are also found in Macerata, where there is a whole district (Villa Ficana), in Corridonia, Pollenza and Rambona.
Opening upon request by Pro Loco Treia
Piazza della Repubblica, 3 – 62010 Treia (MC)
Tel. 0733/215919 - prolocotreia.iat@treia.sinp.net
Plan your itinerary