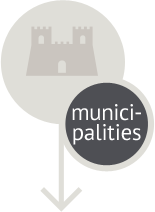 Post a new point of interest
If you want to post your itinerary to us click here
Porto Recanati Svevo Castle
Svevo Castle and Beniamino Gigli Arena
Designated as Castrum Maris and Castrum Portus in medieval documents, the castle was built in the 13th century upon the wishes of Emperor Frederik II of Svevia (1194-1250) who gave the coastline (under the jurisdiction of the municipality of Recanati until 1893) a port and a castle, for commercial reasons and for defence against pirate attacks.
The area of the ancient castle court (about 3,000 sqm) hosts the "Beniamino Gigli" Arena, venue for the summer program of musical and theatrical events. The arena is dedicated to the great opera singer who sang on this stage bestowing on the audience unforgettable moments of his performances during the first 30 years of the 1900s. There is a commemorative stone on the internal western side recalling these facts.
"Attilio Moroni" Municipal Art Gallery
The gallery represents one of the most interesting collections in the Marche area with art works pertaining to the period between the 16th and 20th centuries.
Permanent Archeological Exhibit "The Divine & The Gods"
Inside the square tower of the Svevo Castle (13th century) is the permanent archaeological exhibit that displays artefacts and findings relative to the Roman city of Potentia Picena (2nd century B.C. – 7th century A.D.). Upon visiting, one can appreciate both the history of medieval architecture and ancient Roman sculpture at the same time.
Plan your itinerary