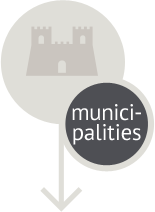 Post a new point of interest
If you want to post your itinerary to us click here
Porto Recanati Church of Saint John The Baptist
Designed by the architect Luigi Paglialunga of Fermo, the church was originally built according to the dictates of the neoclassical style (end of the 18th century) with octagonal plan.
Over the years, reinforcement interventions were necessary and these are clearly evident by the construction of four great central pilasters, not included in the original drawings, for sustaining the roof.
At present the interior emanates an exquisitely Baroque character. The church houses works of art, among which is an altarpiece by Cesare Peruzzi (1894-1995) portraying Saint John the Baptist, patron saint of the town.
The church inherited the title and functions of the primitive small church of Saint John the Baptist which was located inside the courtyard of the Svevo Castle.
Plan your itinerary