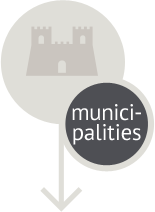 Post a new point of interest
If you want to post your itinerary to us click here
Montecassiano Church of Saint Mark
Church of Saint Mark, also called Saint Augustine and Our Lady of Good Counsel
The church, built in the last decade of the 14th century, was often used as a hall for the Council during the periods of war and the plague. The church and convent were soon given over to the Augustine Order which took up residence in the Municipal building at the end of the 15th century. They enlarged the nearby convent through restorations and extensions. In this sacred place, the Venerable Giovanni Nicolucci took his vows and became rector, taking on the name of Father John of San Guglielmo, known as the Apostle of the Maremma. He lived and worked during the period of the Grand Dukes of Tuscany, Ferdinand and Cosmos II. The interior of the church is a splendid example of a three-nave Marche Baroque style.
Convent of the Augustines
The original building of the convent dates back to the period between 1481 and 1496. Since 2009, it has been the Municipal Hall. After 1861, the church and convent of Saint Mark were declared property of the Municipality. The church was given in custody to an Augustine priest and a lay person until 1910, when the Augustines left Montecassiano for good. Noteworthy are the fresco paintings from the 19th century on the ceiling of the southeast hall of the complex, representing the Allegories of the Arts, and in the central medallion, Diana the huntress. The adjacent room, rather large, has a painting on the ceiling of the municipal coat of arms.
15th century.
Plan your itinerary