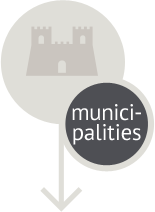 Post a new point of interest
If you want to post your itinerary to us click here
Esanatoglia Church of Saint Martin
Church of Saint Martin
The Church of Saint Martin has medieval origins and the earliest evidence dates back to 1233. Restructured and enlarged various times (in 1311 and in 1493), it was made into a collegiate church by Cardinal Alessandro Farnese. The interior is splendidly decorated: one can admire a sculptural group composed of the Immaculate Conception, Saint Anne, Saint Joachim, Saint Joseph and Saint John the Baptist from 1631, a choir loft from the mid-17th century and a small house with the Virgin of Loreto on top from the second half of the 16th century. 14th-15th centuries.
The Village Fountain or Saint Martin's Fountain
The fountain system was built in the 12th century and it is characterized by a complex engineering system for the uptake of groundwater which is still working perfectly today. The two basins situated underneath the two rounded arches, made from local stone, served different purposes: one was for people and the other for animals. 12th century.
Plan your itinerary