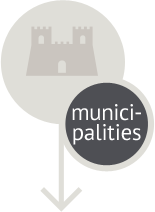 Post a new point of interest
If you want to post your itinerary to us click here
Appignano Surrounding walls and Entrance Gates
The most ancient part of the city is made up of a typical medieval urban structure, organized in quarters with narrow alleys running between rows of buildings.
The ancient walls and entrance gates outline the exact perimeter of the Historical Centre; on these walls, there is a continuous line of attached homes which defines and outlines the oldest part of the city.
The roads are characterised by small parallel alleys which serve the town quarters and are connected by a ring road which winds all the way around.
The buildings, mostly residential, also accommodate artisans or small businesses on the ground floors. This close connection to the residential homes guarantees the proper balance in providing both residency and services.
The facade of the buildings, although simple with no particular decorative purpose, are made of brick with only a few rare cases of plastering.
Plan your itinerary