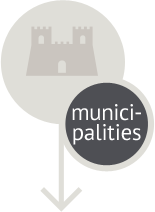 Post a new point of interest
If you want to post your itinerary to us click here
Montecassiano Collegiate Church of Saint Mary of the Assumption
Built on a pre-existing pagan temple dedicated to the Goddess Venus, the original parish obtained the title of Collegiate Church in the 1700s, maintaining the title "Saint Mary." The single-sloped façade is dominated by a rose window in white stone and a lancet window. The bronze portal narrates the story of the religious community of Montecassiano and was made in 1985 by the Sculptor, Sesto Americo Luchetti. The interior is divided into three naves with a cross vaulted ceiling supported by octagonal pillars topped with simple capitals. The architecture is in the Gothic-Cistercian style.
The church's altarpiece is in glazed terracotta and was painted by the monk, Mattia della Robbia. It represents the Madonna with Child in glory between Saints Sebastian, Rocco, Peter Martyr and Anthony the Abbot. The predella illustrates the stories from Jesus' childhood alternated with festoons of fruit, a characteristic of Robbia's paintings. In the lunette, there is the figure of God the Father while blessing, together with angel musicians and surrounded with festoons and cherubs.
In the nave on the right one can admire the altarpiece by Giacomo da Recanati, from the mid-15th century, with Coronation of the Virgin among Saints Francis of Assisi, John the Evangelist, John the Baptist, Lawrence and two patrons.
The lateral chapel, on the right of the main altar, is dedicated to the Madonna of the Good Heart. 15th century.
Plan your itinerary