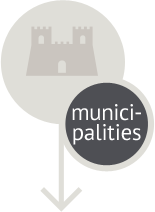 Post a new point of interest
If you want to post your itinerary to us click here
Potenza Picena Municipal Building
Municipal Building
The present Municipal Building was rebuilt, starting in 1745, by Pietro Bernasconi from Canton Ticino who was the main collaborator of Luigi Vanvitelli. Subsequent transformations took place during the 19th century. In the Council Room of the Municipal Building, the paintings of the "Madonna and Child between St. Martin and St. Rocco" (1584) by Simone De Magistris, "Allegory of Peace" (18th century) by Corrado Giaquinto and "Saint Emidius" (1770) by Benedetto Biancolini are exhibited.
Chief Magistrate's Palace
The crenellated Chief Magistrate's Palace built in the 1300s was restored in the 18th and 19th centuries. It accommodated the offices of the Chief Magistrate and carried out mainly judicial functions.
Mugellini Theatre
Between 1856 and 1862, the theatre was built upon the initiative of a committee of noble citizens. Today it is named after the musician Bruno Mugellini and it utilises a part of the Municipal Building. The theatre was designed by Giuseppe Brandoni who used the available space to the maximum and obtained a theatre with stalls, two tiers of box seats and a gallery, for a total of 152 seats. Today, after the restoration, one can admire the antiquated curtain by an unknown author dedicated to the goddess Minerva, supporter and advocate of the arts and sciences. The ceiling is exquisite with a painting at its centre depicting the coronation of a young woman (Italy) by the painter Ignazio Tirinelli.