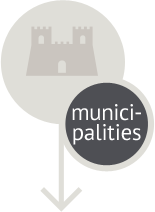 Post a new point of interest
If you want to post your itinerary to us click here
Recanati Leopardi Building
It appears on the small square that takes the name from a famous lyric of Giacomo "Il Sabato del Villaggio". The elegant building, that gathes two ancient palaces, it was restructurated in th current shapes by the architect Carlo Orazio Leopardi, towards the half of XVIII century.
It's the home shere the poet Giacomo is born. Now the palace (up from XIII century) is habited by the descendants and it's open at the public.
The most charmin room is doubtless the Library-Museum that is hosted at the first floor of the building. It's Monaldo, Giacomo's father, the founder of the precious "family's library", devoted to "filiis, amicis, civibus" between the end of the XVIII and the beginning of XIX century.
In the mentioned library there are conservated about 20.000 volumes including incunabulum and ancient texts, collected by the father of the poet, that can be consulted by the studious, after the authorization of the family. The museum tour leads the visitor in some rooms of the palace furnished with antique furniture and decorated with delicates plaster and painting at the ceiling.
In the office of the Count Monaldo is conservated the table-desk of the poet, next to the window that looks at the small square and at the roofs of Recanati.
Plan your itinerary