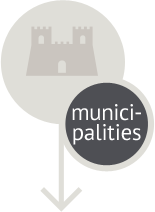 Post a new point of interest
If you want to post your itinerary to us click here
The "Roccone" (from the hill fort of the castle), or ancient watchtower ruin, is situated in a dominating and impressive position on the side of Mount Corsegno.
This structure was part of the surrounding walls dating back to the 1300s of the town of Santa Anatolia and it appeared in a parchment of the 16th century as a fortress of great architectural significance on three levels. The lowest level was formed by a robust polygonal base with angle spurs. Above, there were walkways on the ramparts, at the base of which the town walls were joined. Above the walls, there was a square-based tower onto which a slender lookout tower arose.
Over the centuries, the original structure was reduced to a ruin due to lack of maintenance and restoration, but thanks to the restoration works carried out in 2011, it has now been reinforced. 14th century.
Plan your itinerary