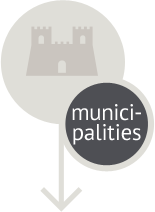 Post a new point of interest
If you want to post your itinerary to us click here
Recanati The Cathedral of San Flaviano
With the face incorporated in the Ancient Episcopio, it was built towards the end of XII century and it was recast in the following centuries. Inside Pope Gregorio XII's mortal remains are kept, who in 1451 refused the pontificate and he is retired in Recanati, where he died two years later and he was the last Pope to be buried out of Rome.
There are also the Baptismal Font with bronzes by Pier Paolo Jacometti, the apse recreated in the XVII century by the Count Carlo Orazio Leopardi and painting illustrating the Station of the Cross by Biagio Biagetti.
The excellent ceiling coffer decorated where on the centre stands Saint Flaviano in all relief is of 1620. The work is made by the carver Andrea Costa from Bologna, the painter Antonio Rizzo from Venezia and the decorators Tommaso Gallucci and Giacomo Zappetta from Recanati. The cathedral had the last great Neoclassical transformation with huge works, that made her in the current style towards the end of 700's.
Plan your itinerary