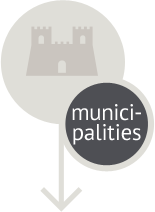 Post a new point of interest
If you want to post your itinerary to us click here
Esanatoglia "The Coffins" Oratory
"The Coffins" Oratory
The Oratory building dates back to the 13th-14th centuries. It is a two-storey structure: on the ground floor there is a chapel and several rooms on the floor above. Originally, it belonged to the Confraternity of the Blessed Sacrament. Later it was used for keeping vigil over the deceased before burial since the municipal statutes prohibited leaving corpses of the deceased inside the homes. The Oratory has a square plan and on one of the back walls there is the "Chapel of the Innocents", a small opening with a barrel vaulted ceiling decorated with elegant frescoes. Of particular interest is the crowning cornice of the building which is made of terracotta bricks. 13th-14th centuries.

Frescoes of "The Coffins" Oratory
The interior of the Oratory is decorated with remarkable frescoes. The oldest is by an unknown author, dating back to the 13th-14th century with figures of Saints. Cycles of the Nativity and the Adoration of the Magi by Francesco de Magistris are dated around 1530.

House of the Three Doors
The door of the bride and groom, the door of daily life and the door of death. The construction of the building dates back to the 14th century and it was restored between 1970 and 1980. It is a typical medieval structure of a house-workshop although it has been partially damaged over time. The artisan activity took place on the ground floor while the floor above occupied the home. The home maintains its original volume.
Plan your itinerary