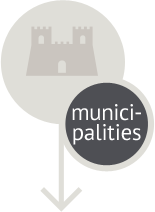 Post a new point of interest
If you want to post your itinerary to us click here
Montelupone Tomassini Palace
Previously, the palace belonged to the Cesari family, descending from the ancient Angeli family.
Until 1664, the palace was the residence of Luca Cesari, remembered in a plaque affixed to the back side.
He donated the palace to the Tomassini family, who continuously owns it since 1680.
Between 1813 and 1816 the architect Giuseppe Valadier, with the likely contribution of the architect Antonio Mollari, radically transformed it.
On that occasion, the building was raised by a storey for the complete neoclassical-style makeover of the front and side facades. In the inside, by the hand of the famous architect, it is possible to admire the atrium, with Tomassini's blazon painted on the ceiling, and the airy staircase with Doric columns.
After years of abandonment, since 2005 it has been completely renovated and restored, including the decorative part of the main floor.
The inside has been divided to get six apartments.
Plan your itinerary