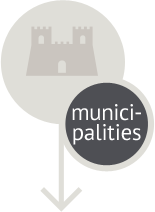 Post a new point of interest
If you want to post your itinerary to us click here
Surrounding walls and four Entrance Gates
Montelupone's medieval origins have remained intact with the castle walls and the four entrance gates into the town which, in centuries past, were closed at dusk and re-opened at daybreak, along with the original stone pavement.
Ulpiana Gate, also called Saint Michael's Gate, derives its name from the Emperor Marco Ulpio Traiano. Restored in the Baroque Period, a decorative arch was added in the front, maintaining the large ogival arch on the inside of the ravelin dating back to the 15th century.
Saint Stephen's Gate, also called Marine Gate, was built in 1804 in brick, with balustrades, battlements, cornices in terracotta and a spire on the pre-existing gate. In the beginning of the 1900's, on the inside, up high, a passage was built to connect the Emiliani Building to the Ricci Building.
Cassero Gate, also called Castle Gate, was restructured in 1500 and further embellished in 1861 with geometric decorations embossed on the load bearing columns.
Trebbio Gate is an original construction placed on the crossroads (trivium) of an ancient road junction with Mount Bubiano (Saint Niccolo') and with the Benedictine Abbey of San Firmano.
Plan your itinerary