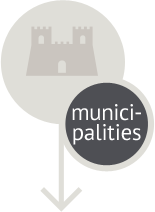 Post a new point of interest
If you want to post your itinerary to us click here
Recanati Venieri Building
Ordered by Cardinal Jacopo Antonio Venieri from Recanati, belonging to the noble family of the XIII century, the palace was designed by the architect Giuliano from Majano in the 1473. The recanatese community contributed with 1500 golden ducat, assured in exchange the hospitality of illustrious visitors of the town.
The front and the interior were completely transformed in 1729 by the architect Pietro Augustoni after the acquisition of the palace from the Corradori's family. In the 800's Moretti Francesco Saverio decorated the rooms.
The interior courtyard conserves the original drawing yet, the capitals of the columns have the emblems of the family that owned the palace, an arch balcony, overlooking on the Adriatc coast and when the sky is clear you can see the mountains of Dalmatia; on it stands a clock with the written "Volat irreparabile tempus".
Paolo III and Pio VII were guests of the palace.
The opposite gardens, today public and inaugurated in 1936, belonged to the palace and were connected from an underground tunnel. Currently of municipal property, it's seat of the High Classic School "G. Leopardi" and of some Cultural Associations.
Plan your itinerary