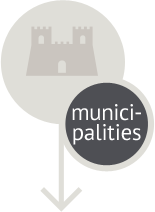 Post a new point of interest
If you want to post your itinerary to us click here
Villa Varano
Local historical research has identified the current municipal building as the ancient Villa Varano. Its construction dates back to the 14th century and it was the residence of the Da Varano family until 1502. From 1510 to 1590 it was the seat of the papal administration and later, the municipal office. Since 1604, the restructured and extended south wing has been home to a Franciscan monastery and relative church. 14th-19th centuries
Ancient Villa Varano Frescoes
In the attic of the villa, a series of chivalry paintings was found which dates back to the second half of the 15th century, depicting Julius Caesar da Varano with other members of the ducal family. The paintings have been attributed to the Master of the Varano Castle of Beldiletto as well as the painting in the Belvedere loggia depicting a view of the castle and scenes of hunting and the countryside. 15th century.
Municipal Theatre
In 1776, works began for the construction of the theatre which is located in the north wing of the structure. It was completely restructured after the earthquake of 1997. 20th century.
Municipal Art Gallery in the former church of Saint Francis
The municipal art gallery is located in the former church of Saint Francis and contains valuable paintings and frescoes which come from the nearby Capuchin Monastery of Saints Cosmas and Damian of Fonte Bono. The gallery also contains frescoes by the painter Diotallevi di Angeluccio which were likely painted in the mid-14th century. 17th century.
Plan your itinerary